Creating a mantlepiece that elevates a contemporary living room is all about finding a balance between simplicity and visual interest.
A mantlepiece can be a focal point of elegance and purpose within the living room, adding both functional and aesthetic allure to the space. Additionally, a mantlepiece can provide an ideal stage for photos, artwork, or other decorative pieces, infusing a sense of individuality and a connection to our personal stories to the space.
In this article I delve into some key design insights, guiding you to master the art of contemporary focal points in your living space.
If your aspirations lean towards achieving the ultimate contemporary design and you are considering larger home improvement, contemplate removing the mantelpiece altogether and having an exposed woodfire. Whether it is the most innovative design or a more classical burning stove, it will be transformative to the space, expanding the room's spatial perception, allowing flexibility in arranging furniture, and embodying an elevated aesthetics.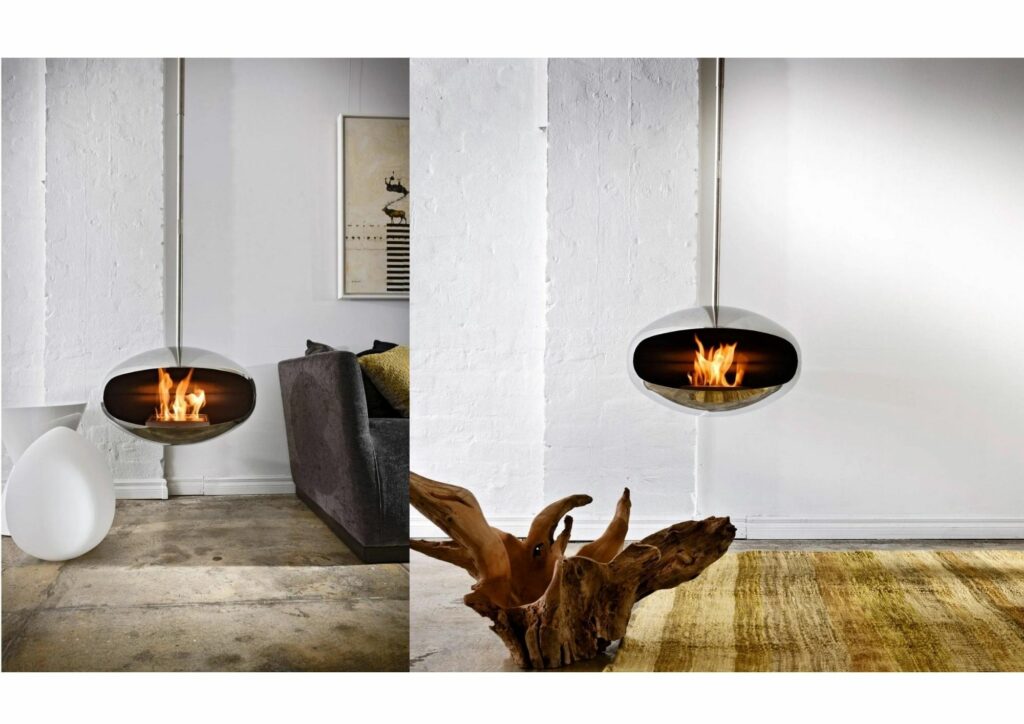 Perhaps, undergoing the complete removal of the chimney breast does not align with your vision. If this is the case, here is my next best choice: introduce structure.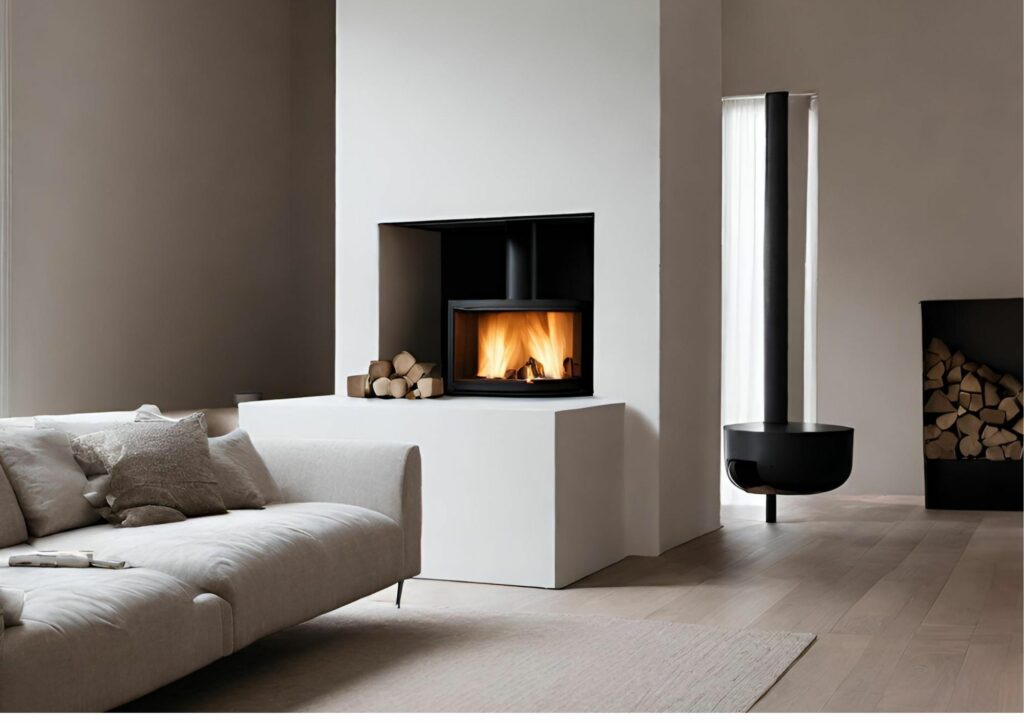 To elevate the look of your mantelpiece to ultimate minimalism, use tactile stones, whitewashed bricks or concrete to create a stylist bench. A sleek structure will craft a stylish storage for logs, as well as leaving room for showcasing beautiful objects.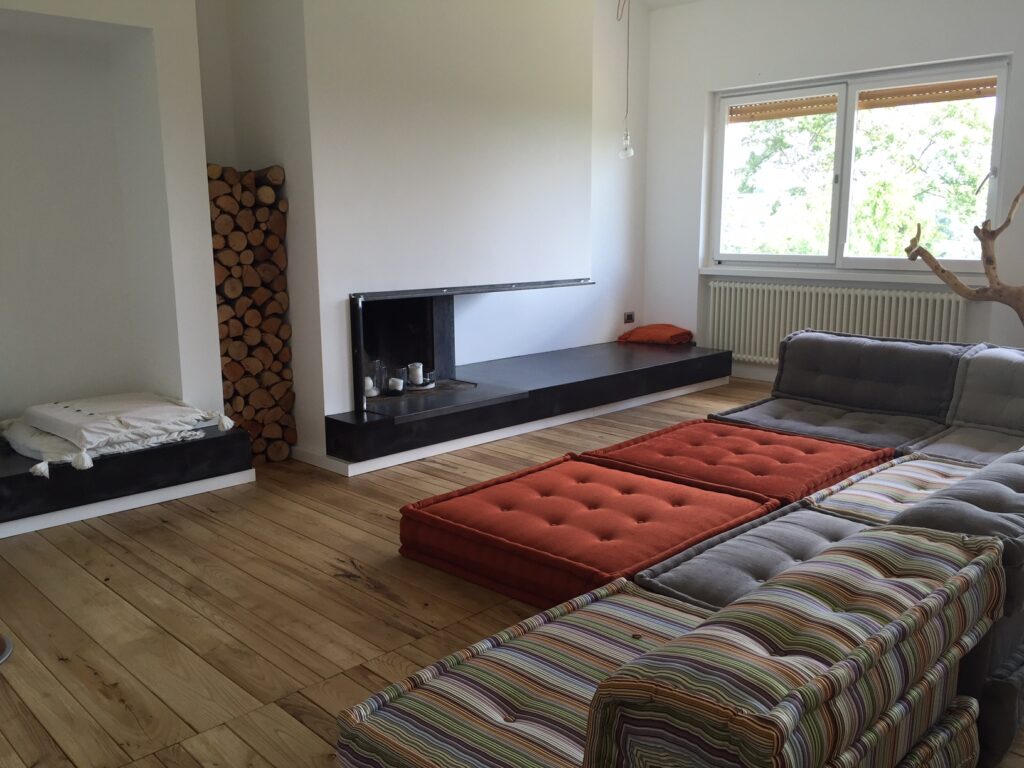 Having delved into the structural transformation of the mantelpiece, let's explore how you could add that touch of elegance and sophistication using simple yet powerful decorative touches.
Here are my guidelines to help you master the art of styling a contemporary mantelpiece:
Embrace simplicity: Contemporary allure lies in simplicity. My first advice is to avoid the temptation of overburdening your mantelpiece with an excess of details. I often notice how an abundance of colour, materials and objects such as family portraits, clocks, mirrors and floral arrangements tends to create overwhelm, disrupting elegance and harmony.
Curate a selection of sculptural pieces. In my pursuit of essentiality and refined aesthetics, placing a mirror above the mantelpiece is an option I have never been inclined to embrace, despite its persistent popularity and endorsement by many interior designers. Perhaps you already have one. If so, ask yourself "why is it there, do I really love it, does it add genuine value to the space?"
Instead, I invite you to opt for a curated trio of statement pieces, selecting them not only for their aesthetics but also because they are authentic pieces that resonate with you. Draw from your passions, interests and even travels and choose items that captivate your attention and that you enjoy having around you.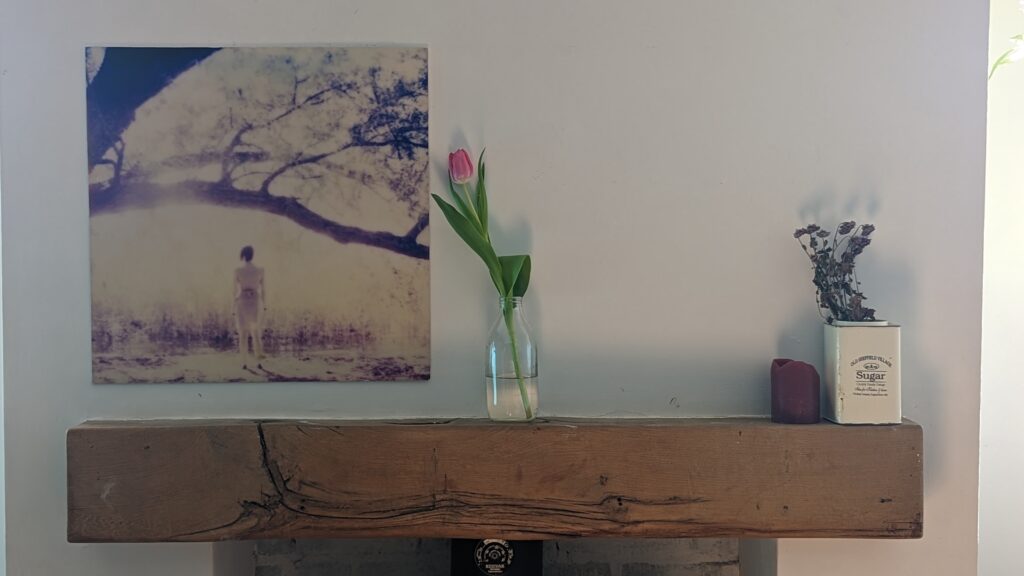 In my ideal mantlepiece composition, I gravitate towards contemporary works of art – a photograph, one of my passions, or a painting – adding one or two artisanal candles for a soft glow. Finally, an indoor plant, breathing life and vitality into the space, to complete this elegant tableau. 
Transformative colour. Wooden beams and metal frames can evoke a very traditional aesthetic. Consider painting these elements creating a captivating monochrome or tonal effect grounded to the surrounding environment, a real testament to modern sophistication. Explore the beauty of it in this blog.  
Even when it comes to arranging and displaying objects, maintaining a cohesive colour scheme is paramount. Select a palette that resonates with the rest of the room and the contemporary essence. Whilst a contemporary colour scheme is often associated with white or grey, my favourite colours for the objects are daring hues like moody reds, the earthy tones of deep oranges or dark chocolate, but also elegant neutrals such as off – whites of unbleached cotton and hemp or sage greens that harmonise seamlessly with any scheme adding a touch of refined sophistication.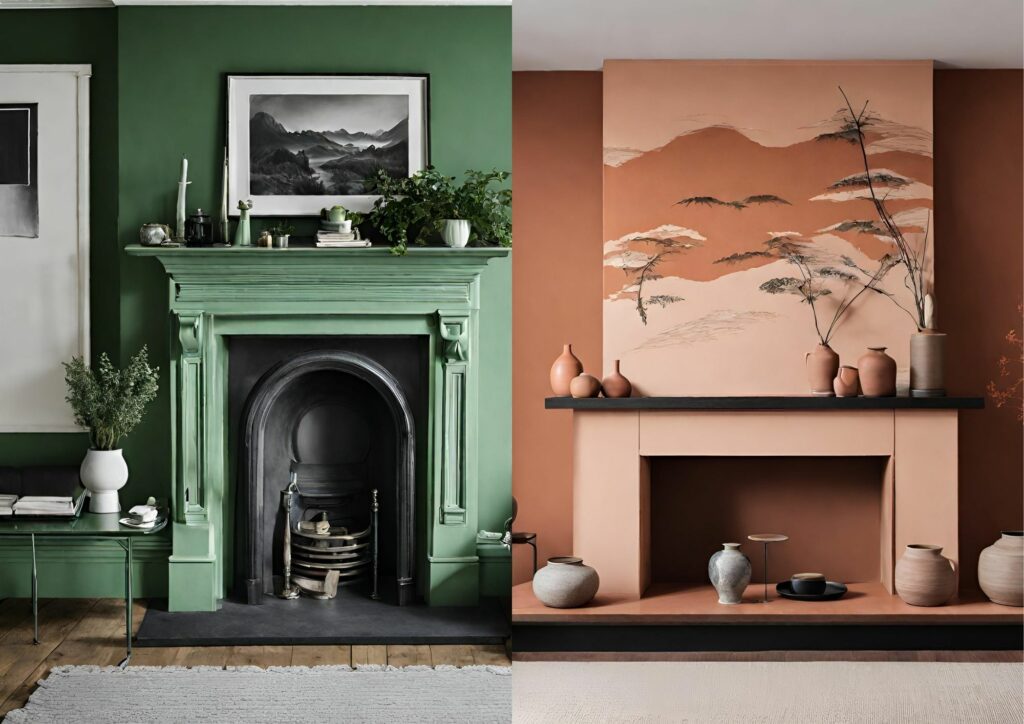 Celebrate clean lines. Geometric shapes are iconic to contemporary design, so I invite you to look for items that embrace the timeless allure of this aesthetic with a fusion of well-defined edges, soft angles and natural materials. They convey a warm, inviting ambience, creating an embrace of contemporary finesse that invites, embraces, and emanates understated elegance.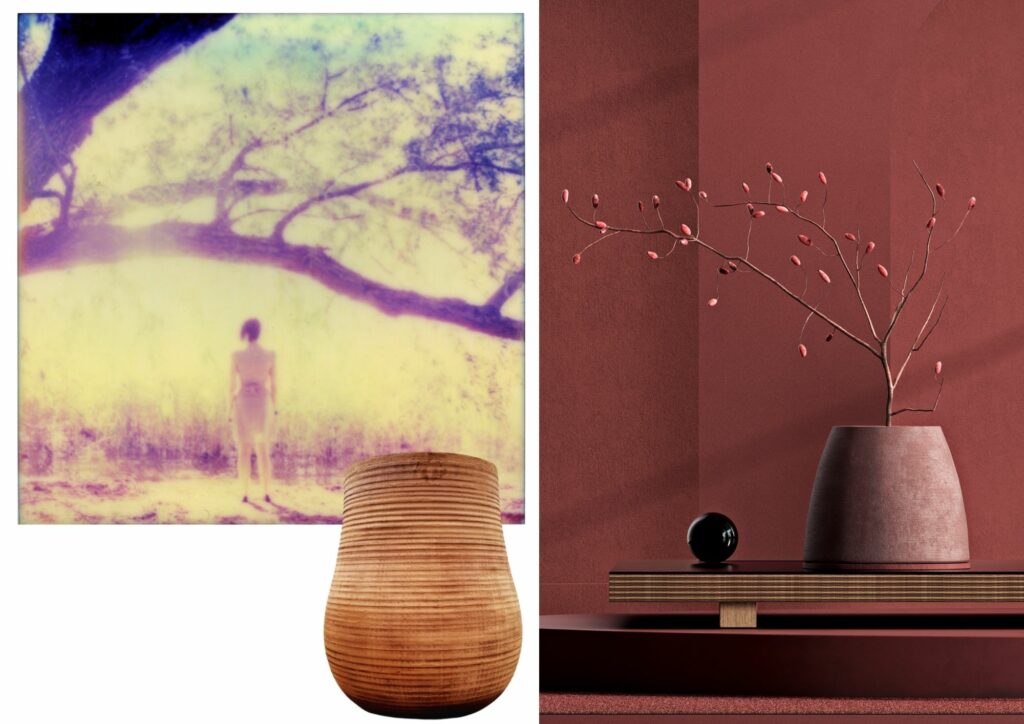 Introduce tactile interest. Unpolished, raw, and natural materials offer a wonderful opportunity to cultivate a lived-in ambiance, infusing your living space with calming natural elements. Vases or other pottery are utterly my favourite addition to the mantelpiece. Play with them. Place them on the floor, next to your woodfire and style them with flowers or twigs arrangements inspired by the Wabi – sabi aesthetics. 
Sometimes, incorporating metal to a minimalistic scheme can add to much structure but it is always worth considering the overall scheme and your personal tastes. If you prefer opting for metal, I suggest iron, instead of gold, brass or bronze for a more sophisticated look and impact. 
Welcome imperfections and celebrate asymmetry. As you curate your mantlepiece, strive for balance in your arrangement, avoiding a strict central or one-sided placement of items. I don't follow rigid rules, I just see harmony and balance in asymmetries, and by this, I achieve a captivating visual intrigue. Select items of varying heights—a grand artwork, a robust candle, and slender, tall flowers? Or perhaps the reverse. Play with imperfection and find your unique magic.
Think of scale and balance. It might seem obvious, yet consider the size of your mantlepiece and choose items that complement its size.
The five things in love on a mantelpiece: pebbles, a sculptural vase, a large contemporary photograph, a couple of candles, an indoor plant.
Remember, less is more when it comes to contemporary design, so keep your mantlepiece streamlined and uncluttered. Don't be afraid to experiment and play around with different items until you find a combination that works for you.
If this concept resonates with you, your aesthetic aspirations and you desire a refined touch to enhance your living space, the Style Café offers an ideal start.
Through a comprehensive 2-hour consultation, I share with you exclusive insights into artfully styling accessories and furnishings for every room – an often overlooked and challenging aspect of the interior design process to successfully do it on your own.
I invite you to connect with me and arrange a complimentary call today. Let's delve into your creative visions, explore possibilities, and chart a course on how I can elegantly assist you in achieving your design aspirations.