The ultimate guide to choosing the perfect sofa
Choosing your new sofa is not always easy. Contemporary sofas have become multifunctional islands in the centre of our living rooms, one of the places where we rest, sleep, play, socialise and often work. They will prompt conversations and embrace you in your lonely moments, offer help with storage and extra sleeping space.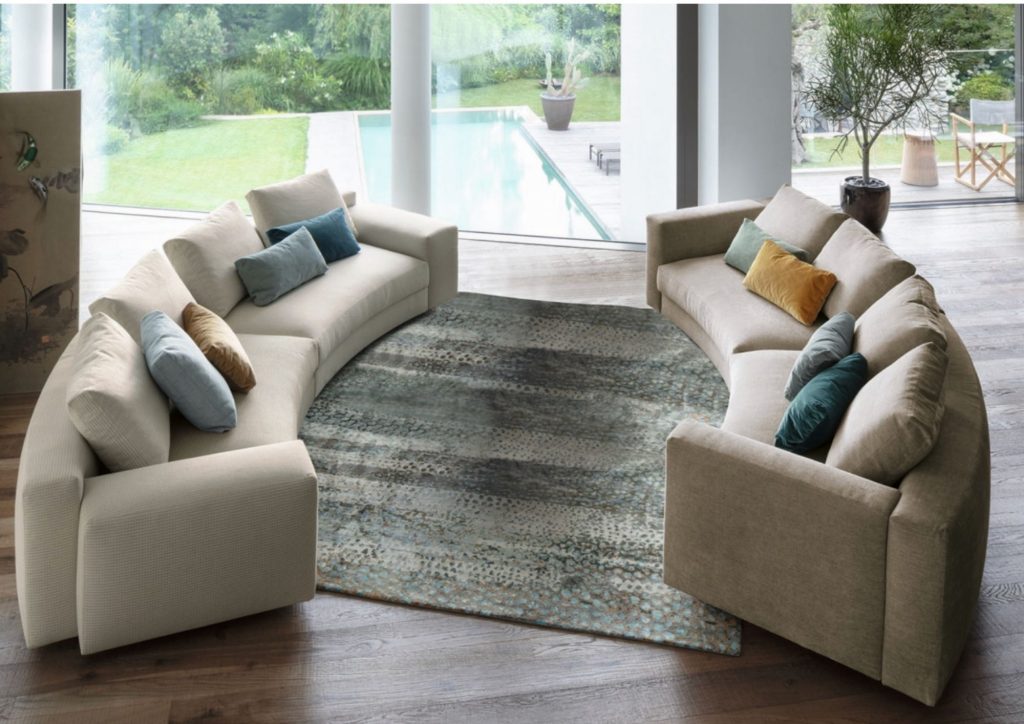 In other words a sofa is no longer just a sofa. This is why there is so much more to choosing your dream sofa than colours, prices & trends. But, with a seemingly endless amount of choices, how do you know that what you are choosing is the right one? And where do you even begin to look? The secret answer is asking yourself the right questions.
think function first. Asking yourself who will use the sofa and what you will use it for, will allow you to narrow the options and focus on a style and model which fits your requirements. Is it your main family sofa? With their generous proportions, contemporary sofas could be the right design. Consider modular versions where you can add and remove units, and it will magically grow with your family. Will it be the focal point of your interior design, and maybe complement any existing or extra seating? Go for curved backs, mid 20s inspired glamour, refined details and striking silhouettes and dress it with sumptuous velvets. Do you need storage or an extra bed for guests? As much as sofa design has evolved, it is quite unlikely for you to find a Mid-Century style sofa with storage. If you are a vintage lover but are desperate for extra storage consider an ottoman footstool to go with the sofa instead.
choose the right size. The first step to buying your dream sofa is measuring the space. As obvious as it may seem, the number of people who go sofa hunting and have no idea about it, it's surprisingly high. If possible, remember to bring the measurements with you. Take pictures of the room where the sofa will be placed. If it is an open plan, pics from the rest of the room are a good idea too. Any piece of furniture needs air to breathe and sofas are no exception. Ideally, consider leaving about 20 – 30 cm on each side. Downsizing is a better option than having a jammed sofa.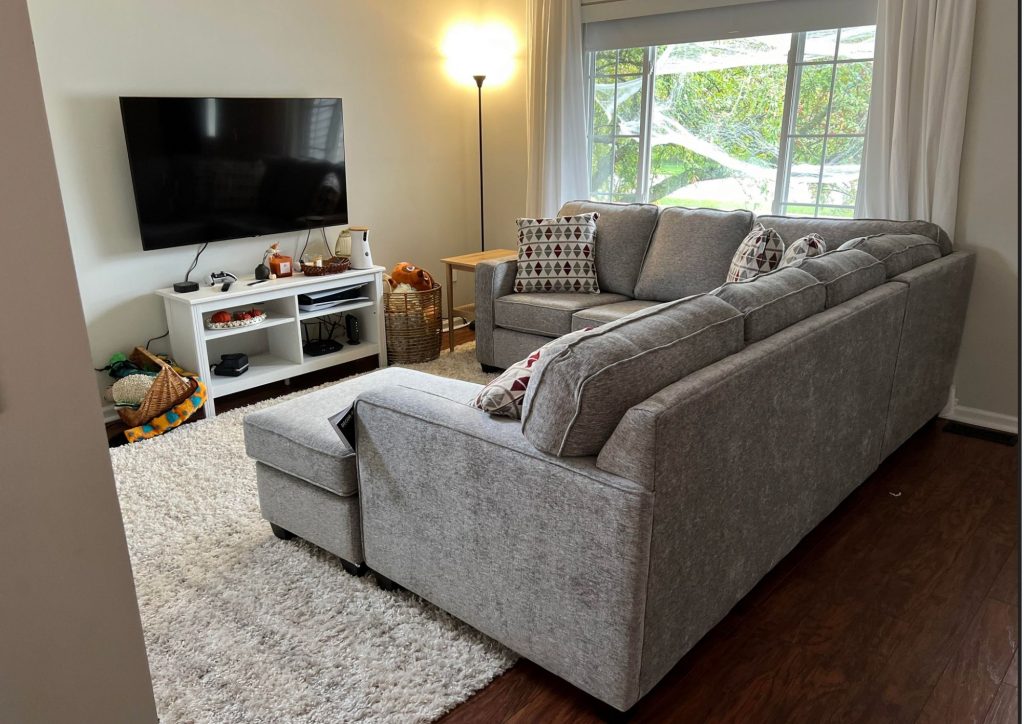 think of your space. When deciding where to place your sofa, the back to wall is the most common option. Luckily, nowadays, it is no longer the only one. The style of the sofas has evolved to meet new requirements and home styles, especially wider, open plan spaces. That means that many brands now design their sofas with a Bside which is as attractive as their front. If your space has the right potential, consider using the sofa in the centre. It's a great way to visually divide two joint ambiences leaving the space completely fluid and open. Some brands may offer a home consultation with a design consultant. Check this possibility and take advantage of it!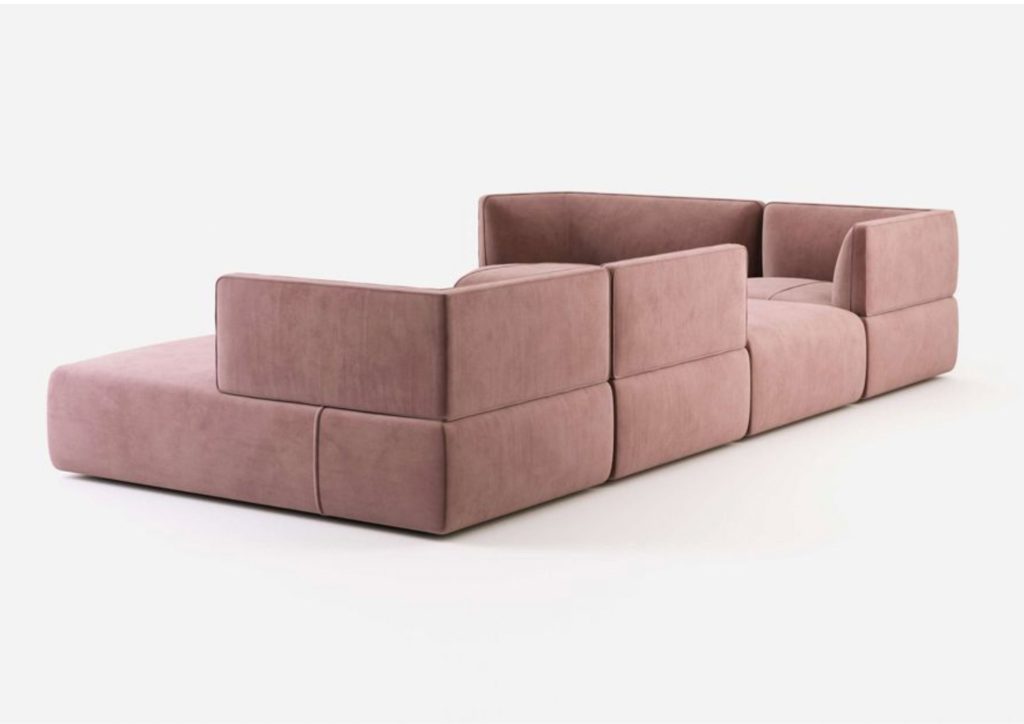 choose your style. This decision can be influenced by the period of the building, the scheme in the rest of the room, your personal tastes or your interior designer. Some inspiration can be drawn from popular trends, as they might inspire you to consider something different from your original style. Yet, my advice is always go for something that speaks to you. It's your story you want to tell. The offer is wide and can be confusing. My best advice is walk into a showroom, have a browse and see what you feel drawn to instinctively. Here are a few styles for you to consider.
Get the comfort right. Once you have picked a style, the next step is feeling how comfortable that is. This is an utterly personal decision, yet, here there are a few things to focus your attention on. I recommend trying the sofa as you would at home, as sitting upright and formally is an entirely different experience from slouching or napping. Take your shoes off and make yourself comfortable, allowing plenty of time for your sensations to be processed.
Bear in mind that loving the style and even the comfort doesn't necessarily mean a happy marriage. The perfect sofa has to suit your lifestyle as much as your personal taste. Love sinking in and don't mind daily plumping? Full feather would be your go to interior. If you prefer support and structure and are happy with a more formal look, 100% foam is your best option (hardly any maintenance required is a bonus).
Sometimes you might be ready for little compromises, it's just nice to be aware of it before you make your choice. The great news is that most brands do offer many alternative interiors with different levels of maintenance to thick pretty much every box. These options usually combine foam or fibre with feather, either sprinkled, topped or wrapped. A knowledgeable style consultant will be able to talk you through the different characteristics and this is why it is always worth asking questions, even if you think you don't have any.
Dress it. Just as it is for the style, choosing the type of fabric and colour can be influenced by your personal taste, existing furniture, furnishings or artwork, the vibe you want to give to the room. And is definitely influenced by budget. So to help you make a decision, here are some key questions for choosing the best upholstery. The main difference is between natural and synthetic materials.
How much do you want to spend? Setting a budget for your sofa is probably the best place to start, as this will determine how wide your fabric choice is. Anything natural, such as cotton, linen and wool will be fairly expensive, whereas man-made fabrics, such as polyester, modacrylic or microfiber tend to be a more affordable option. This does not necessarily mean compromising on the look & feel as there are really nice blends with cotton that make those fabrics soft and appealing. Finance is also a good option to upgrade to your dream sofa without breaking the bank.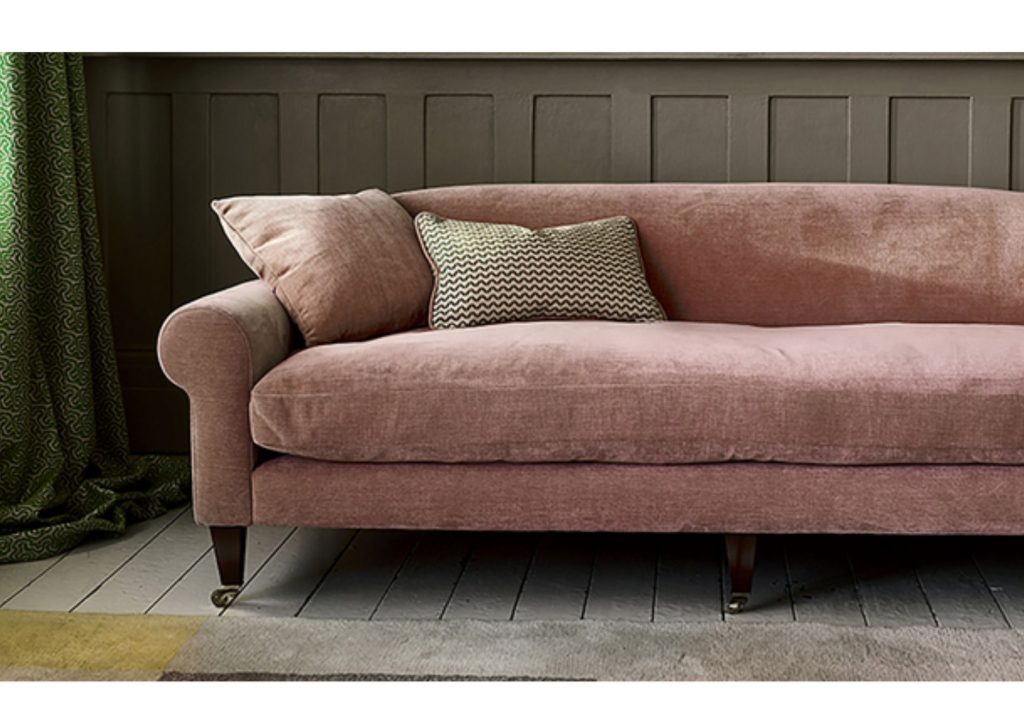 How much tear and wear will your sofa have to endure? This is strictly related to where the sofa will live, who will use it and what for. If you are buying your main sofa and you have children and or pets, you want to avoid texture and maybe consider a smooth cotton or any synthetic fabrics. They are easier to clean and harder to scratch or rip and good at retaining their shape. Luxurious, textured blends with cotton, wool or linen, are best suited to seldom used rooms and grown up lifestyle.
How easy is it to clean? Removable covers and synthetic materials are the safest options (sometimes professional clean only may be advised). Needless to say, natural fabrics will absorb any liquid and mark more easily. To keep on the safe side, sofa brands will either apply a protective treatment or offer an after care policy. I am not too fond of spray stain protectors for three reasons: they make the fabric harder, they can cause allergies and they wear off with time. A good after care service is a more cost effective and safe option. Always check terms & conditions and read reviews.
Which colour to choose? Do you want your sofa to stand out or blend in your scheme? The colour of your sofa can make a dramatic difference to a room, and you can create a focal point by choosing upholstery fabric in a bright or deep colour. The downside? It could be more challenging to redesign a colour scheme around it over time.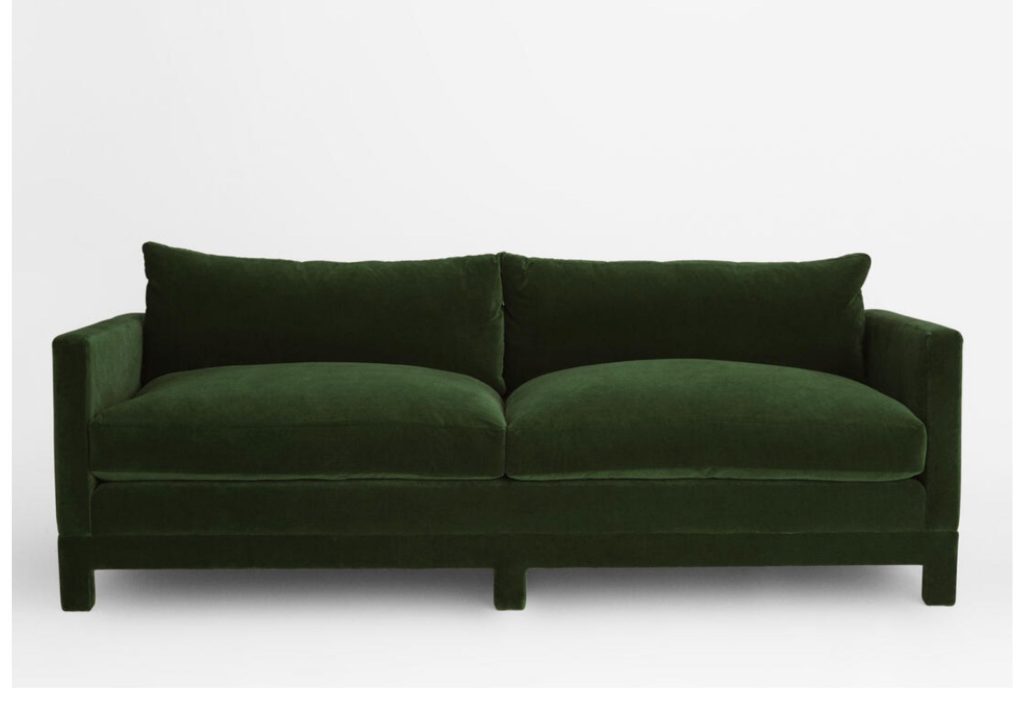 Neutrals and light colours will show marks more quickly, so if you've fallen in love with a pale-coloured sofa, ensure it has removable, washable covers or check for protective treatments or after care policies.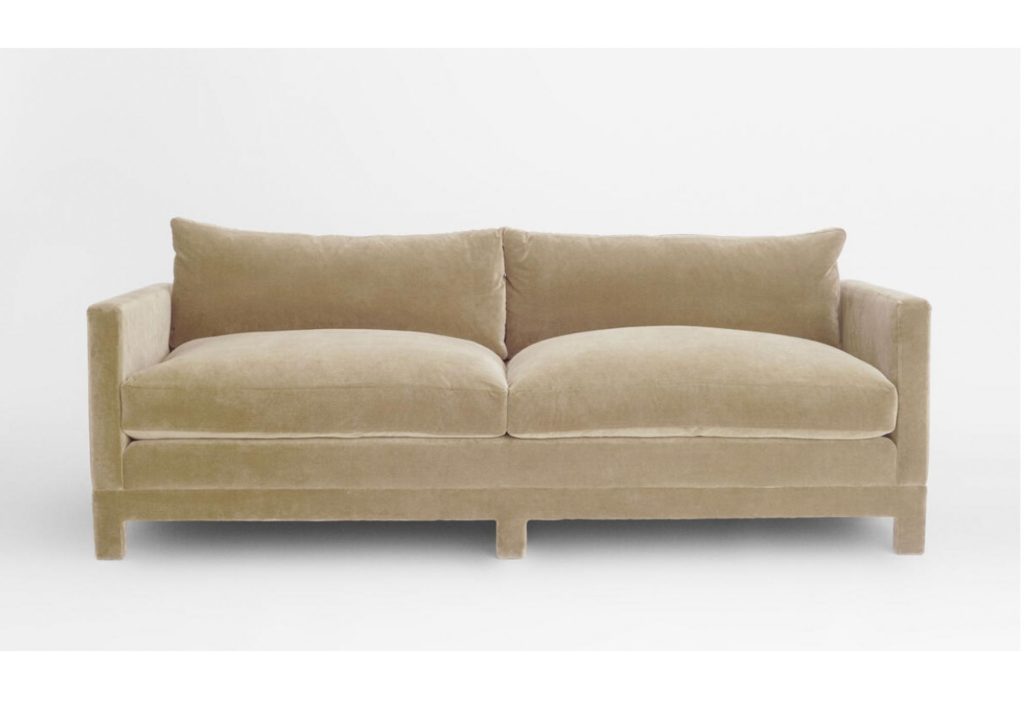 Almost everyone will say that a good compromise is a grey sofa. It is apparently the best selling colour ever as it's easy to work into just about any colour scheme and can be dark enough to hide stains and marks. On the other hand, grey often lacks personality, sinking the vibe of the room rather than elevating it. Opt for muted – or greyed or dusty – green or blues instead. These low saturated colours are full of character yet incredibly versatile for a timeless, confident elegance.
Insider tips.
Hardwearing fabric? It's about thread count. The higher, the better. Read more here
Direct sunlight? Make sure that any dark, natural fabric is kept out of direct sunlight, as it will fade. This is especially true for pure cotton velvets in any colour. Alternatively, opt for a lighter shade or a fade-resistant fabric.
Pets? Yes to melange & patterns (great at hiding imperfections), no to thread or bloucles to avoid paws damages.
Velvets. If it's a sumptuous glamour that you are trying to achieve, velvet is your fabric. The best velvets feature pure cotton and high piles for an incredibly luxurious look & feel. Effortlessly stylish, they will capture attention as well as light, achieving far more depth than a flat cotton or linen fabric. Cotton velvets will change over time as part of their beauty. As a more affordable and low maintenance alternative, there is a wide range of man-made velvets, often blended with cotton, for you to consider.
Accessorise it. Scatter cushions are the best way to balance the mood and tie the look together. To add interest to a neutral fabric, choose scatters in contrasting, rich colours, textured fabric, bold patterns. To soften a deep, impactful fabric and colour, opt for light, textured cushions in luxurious wool or linen.
Don't be shy. Make the most of the expertise and knowledge of the style consultant and ask them about the composition (materials), the maintenance and how the fabric performs over time.
I did anticipate this was an "ultimate guide", so…thank you for making it to the end. If you are still not sure or have more questions, get in touch. I will be happy to help you find your sofa for life.