With festive carols already in the air, everyone is ravaging for tips to style their house for Christmas. Hopefully I will not disappoint you but this is NOT another blog post about it. There is plenty out there for you to look for.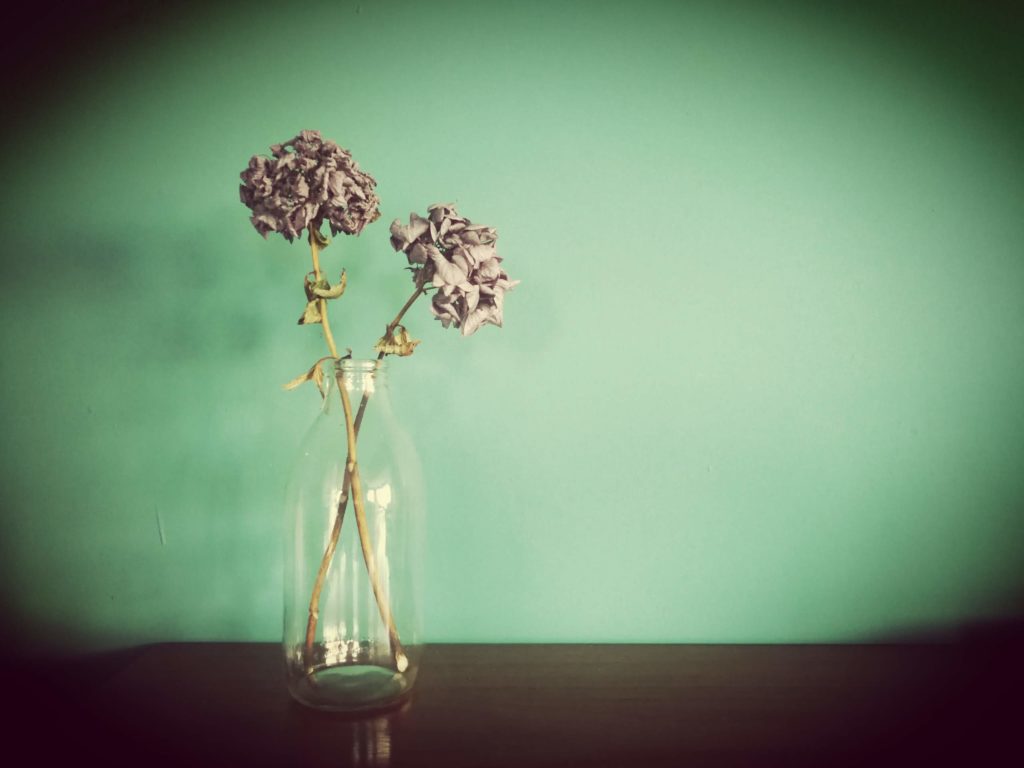 I am trying to lure you into focusing on those small details that make a big difference in creating an environment that expresses your style of life. Who would be bothered to have a stylish soap bottle by the kitchen sink instead of those plastic ones from supermarkets? Me, of course. When I say "style matters", I mean it.
Before going for that festive vibe to warm up your place, you too might be thinking "I would love to revamp this room, give it a little bit of edge to surprise my visitors and refresh the look". Well, here is your magical wound to transform yourself into a "style fairy". Read this to get inspiration and guidance, give a little boost to your self confidence and achieve that elegant, unconventional, uncluttered simplicity. 
A good way to begin is by starting with a few simple tweaks, just to warm up.
Rethink your households
I am talking about household objects. We can't avoid having them and we often don't have the perfect storage to hide them. Have you ever thought they are often a punch in your stomach when it comes to style? After reading this, you might. Yet, worry not, as here are a few quick tips for you.
Ditch hand soap and washing – up liquid plastic bottles. They look evil and they are environmentally irresponsible. Soap bars look nicer than most of the bottles and are way more planet – friendly. If you can, treat you to the hand – made ones. You might think they can be a bit expensive but they do turn a simple routine into a little treat and add that stylish touch that everyone will enjoy.
Being an earth – conscious person I live my life in the most sustainable way possible. Buying local, reducing waste to the min and up-cycling the max, are choices I stubbornly keep making and teaching my child to make. I love how this turns me into a resourceful person and how it feeds and inspires my passion for design and style.
I always refill my washing up liquid from our lovely local wholefood store using the same old plastic bottle from years ago. Yet, as I tend to not compromise on elegance, why not combine planet – friendly attitude with style? And there you go, my used face cleanser bottle is perfect for the trick.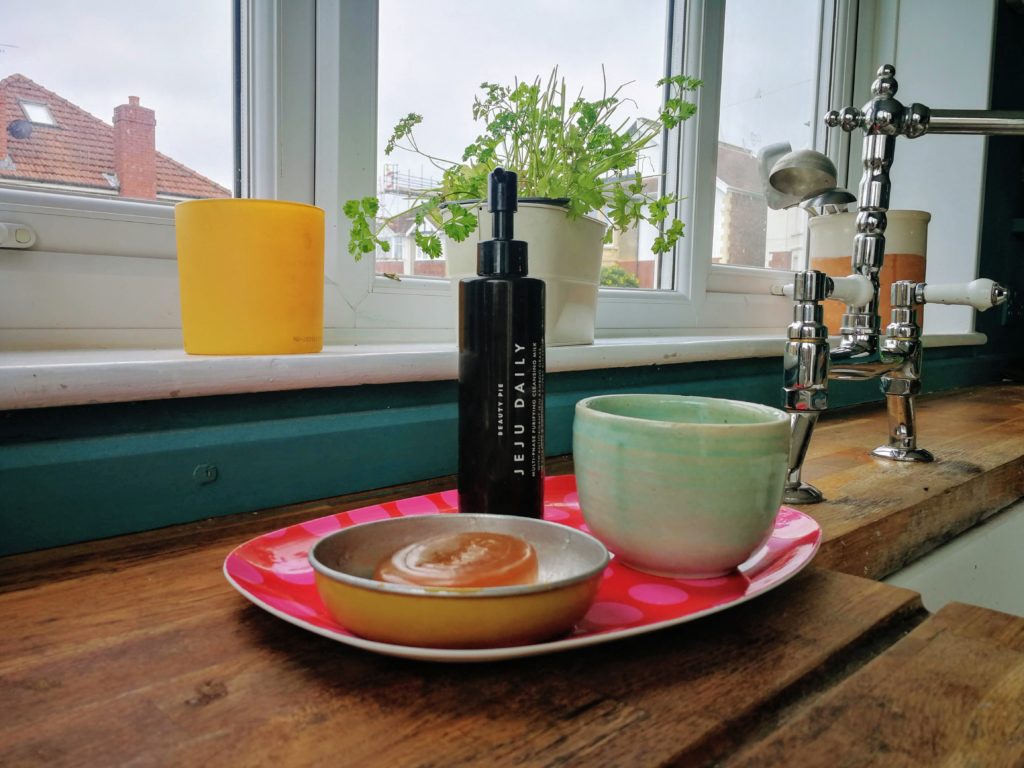 If you are not sure where to source for lovely soaps and containers my best advice is to look out for local art trail websites. A great way to discover real gems, meet lovely people, support small businesses and buy local, hand crafted products.
Check out this one that is happening this weekend BS16 Art Trail. I love how it's grown in just a year and how it showcases everything that it's worth knowing locally.
Be inventive with your storage. From cutlery to toilet paper, up to reusable shopping bags there are items we need to keep handy but that can spoil the look and feel of the space. Using repurposed objects is my favorite way of tackling this. All it takes is some inventiveness and lateral thinking. Store toilet paper rolls or reusable shopping bags in a nice wicker tote bag, maybe styled with some dried flowers or a ribbon if you feel really creative. Hang it on the wall or place it on the floor. It will look just so cool and perfectly hide what's inside.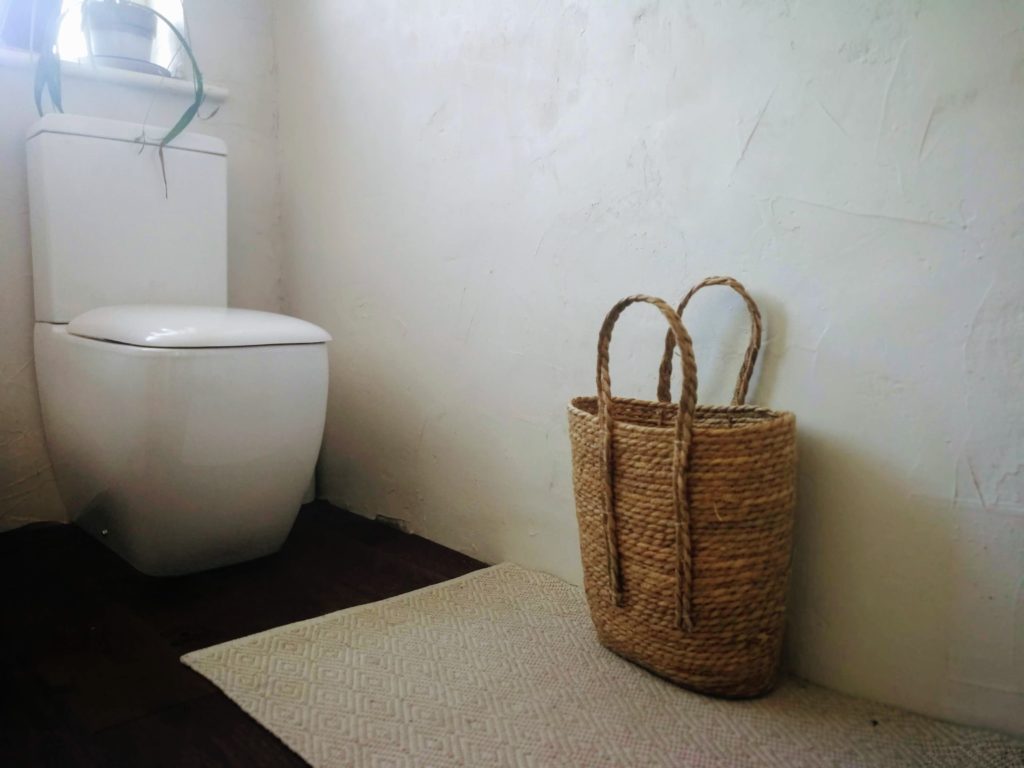 Declutter with style
No matter how clever your space planning is and how much storage you have, a clutter free life is almost utopia. However, I cannot let it win, so I have found my very own way to fight it back. I use trays. I love how colours, materials and shapes define and delineate a surface, magically turning messy spots into nifty corners while keeping the space neat and functional. You can use trays to gather objects that would otherwise look scattered. Jewelry on a chest of drawers in your bedroom, keys on cabinets in the hallway, utensils and households in the kitchen. Just remember to be playful with colours, shapes or materials. Give it a go and see how you like it!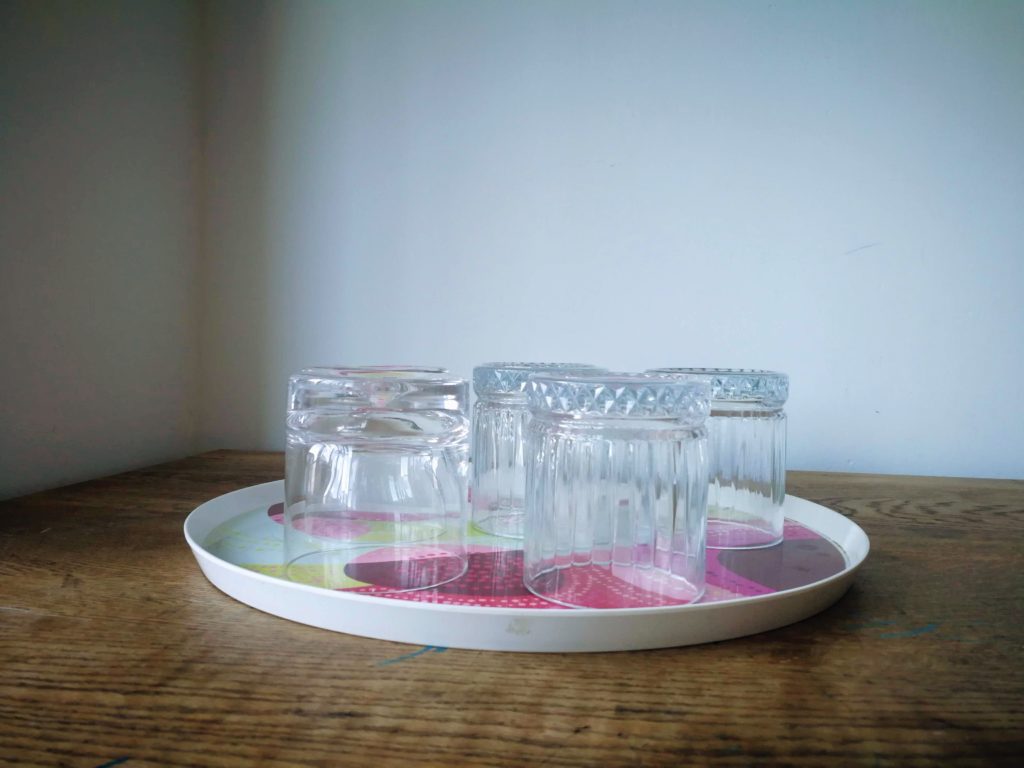 Dare to be unconventional
There is a subtle line between out of place and unexpected which is not easy to achieve. I love being surprised when, in a hurry or absorbed in my thoughts, I walk into a room. Books, pictures, fresh flowers, stones, plants, vases or lamps. Scatter them around the house, between glasses or in the bathroom, make special places for them so that they keep surprising you.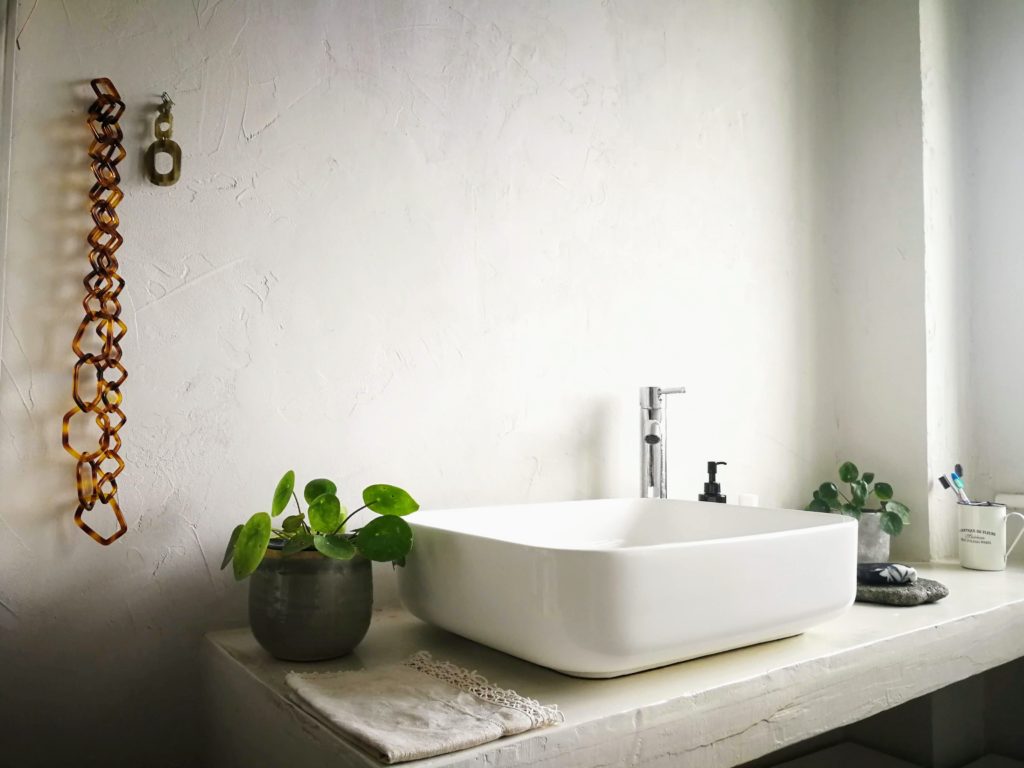 Invest in small details
We do say "devil is in the details" and in my years as an interior photographer I have learnt it so well. My aesthetic often drives me towards a "less is more" attitude, as I love how simplicity helps details to stand out and be noticed. However, spaces that surround us need to have a soul, express our style of life and hopefully emotions.
Adding something special to your space with small décor objects, such as nice pots, vases, lamps, or even mugs and tableware is a great and low cost way to style up. You can move them across the house and change them often enough. Even swap them with a friend!
Add soul with soft furnishings. A throw or new scatter cushions on your sofa or an area rug bring new life to the mood of the place, adding colour and warmth whilst creating focal points and delineating the space. Bed, bath and table linen can also add a little luxury around you. And it's ever such an affordable way to treat yourself to that particular colour, to that luxurious fabric or to that awesome pattern you always secretly dreamed of. Isn't that magic?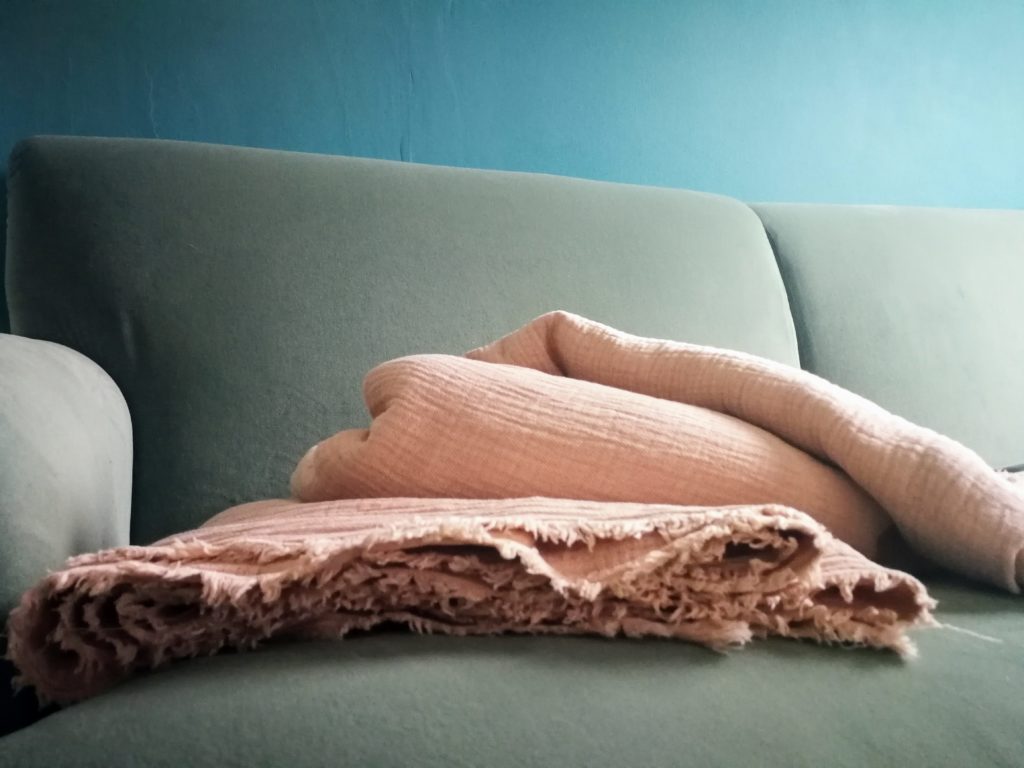 Incorporate art. A work of art triggers emotions and memories, it helps our mind to steal a few precious moments from our everyday busy life, and breathes life into a wall or a corner of a space that is our own. I have written a blog post about "Our homes need art. Now more than ever" on this already, just follow this link and enjoy.
Go green. Is always a good idea. Plants add interest and bring a corner to life, that is undoubtedly true, but, do they all work no matter what? First thing first, you want to choose the right plant according to light and moisture, I know that. But, as usual, I think shape also matters. Think of where you will place it and how it will fit in that space. Will it help you to hide exposed wires, will it fill an empty spot, will it give a sense of lush to the room? And always invest in a nice plant pot!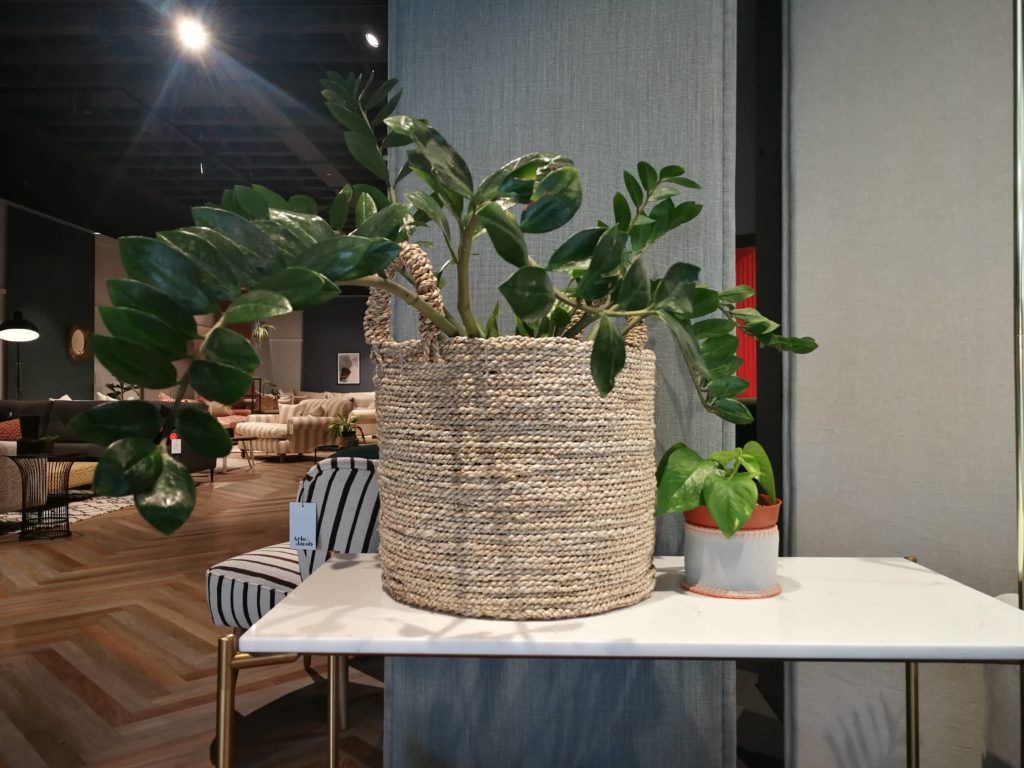 Fancy Plants is my favorite here in Bristol. It's like stepping in a little jungle in town.
The Wild Bunch, The Rambling Rose, The Flower Shop and Roots are all amazing places for floral design. And all run but delightful people.
Use colours to tie the room in
You might feel this can be a bit more challenging, so leave it for last. However, provided you have plenty of time, the right amount of patience and a DIY attitude, you can have a go at it. 
One of the most common challenges when styling a room yourself, is having mismatching colors, different stains and types of wood and treasured objects that just look desperately out of place. The whole space looks busy and accidentally put together, making the process of re-styling quite frustrating.
My very personal way of tying it all together is just one: use color.
Keep calm, grab a cuppa (always start from there!) and try to look at your space with fresh eyes. Nothing works more magic on a low budget and stretched time to bring unity to rooms. Look at doors and skirtings, window sills, frames and shelves. Try and figure out what looks out of place and how it will look once they are more blended in the wall color or just all painted in the same hue. Have a look at how I nailed this for real in our open plan kitchen and living. It used to give me headaches and it is so relaxing and stylish now.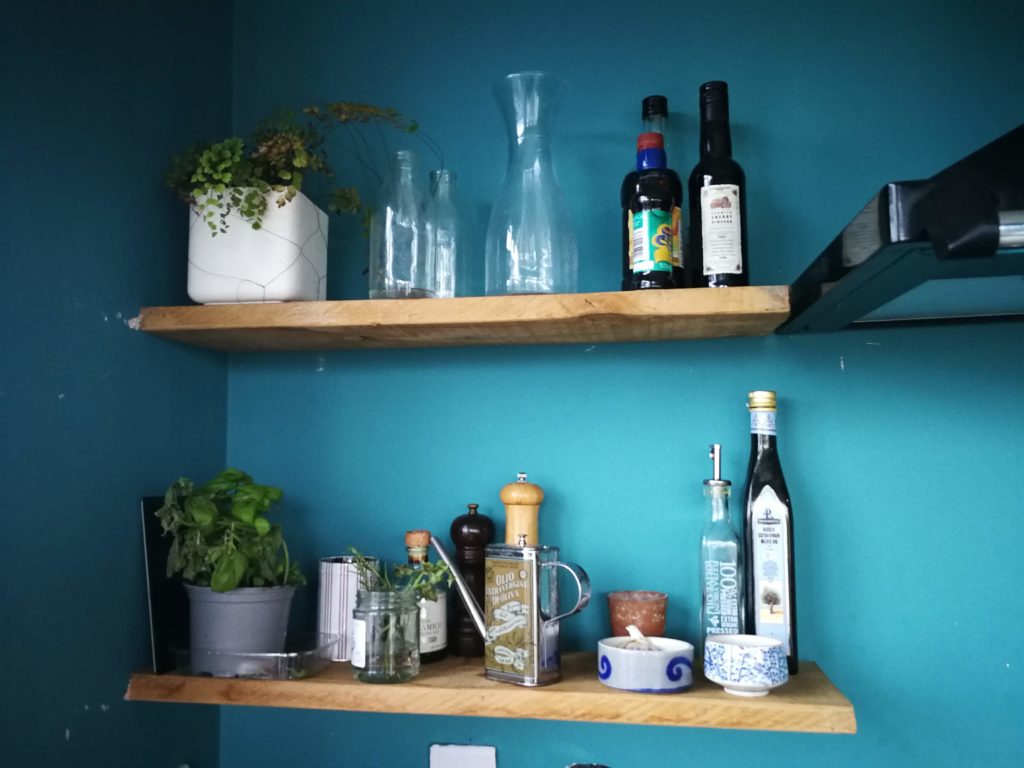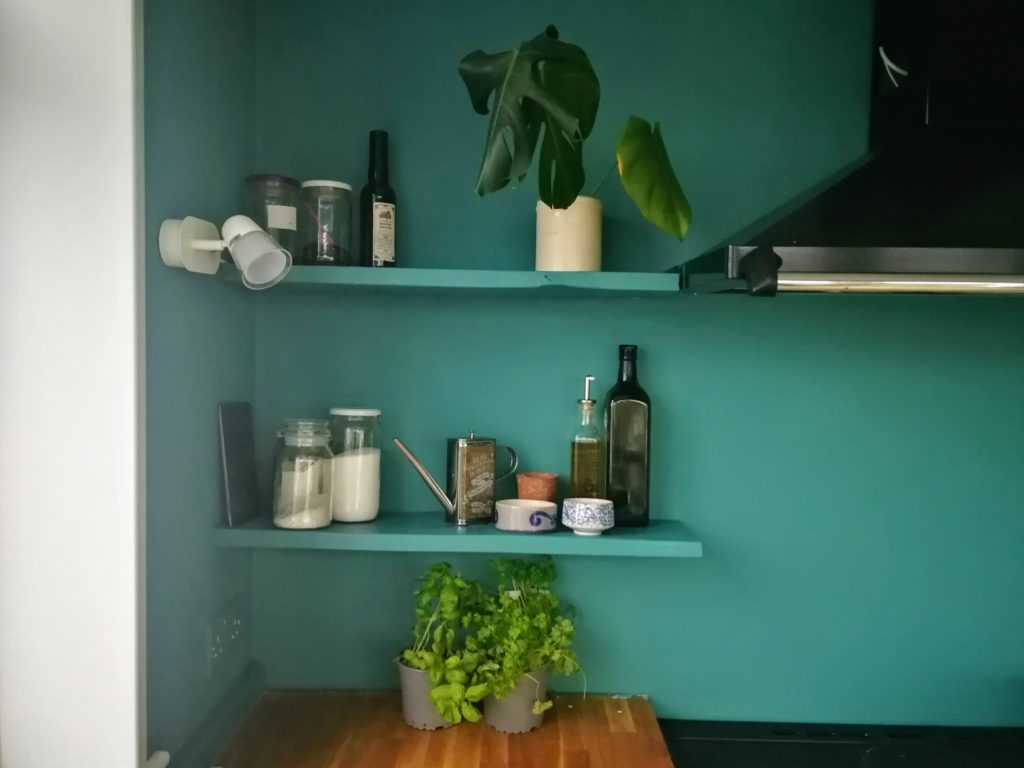 I would love to see pictures how you made this work for your space. If you love these ideas follow me on Instagram, or get in touch to go a step forward.